International Trade
OUTREACH, EDUCATION AND TRAINING
The U.S. Census Bureau provides valuable resources and training on understanding the Foreign Trade Regulations, classifying foreign trade commodities, filing foreign trade information, and utilizing foreign trade data. Learn more about these topics through our webinars, tutorials, training videos, seminars, conferences and other useful tools to help you build a strong foundation in the fundamentals of exporting.

All webinars are FREE and start at 2pm E.S.T.
Log-in details available 24 hours before event
Understanding the Foreign Trade Regulations
Classifying your Product
U.S. Census Bureau
June 10, 2014
U.S. Census Bureau
June 24, 2014
Learn the rules and responsibilities for all parties involved in an export transaction. Before you export physical goods from the US you must be aware of your role and the reporting requirements.
Need help classifying your product for exportation? Learn how to use our intuitive Schedule B Search, and gain an understanding of the classification rules.
Access June 10th Webinar
Access June 24th Webinar
Learn more about the Export Administration Regulations
Complying with the International Traffic in Arms Regulations
Bureau of Industry and Security
July 8, 2014
State Department
July 22, 2014
Gain an understanding of the Export Administration Regulations, Export Control Classification Numbers, and how to file Commerce-controlled exports in the Automated Export System. Learn about the Commerce Control List, Export Control Reform, and the new "600 series," as well as existing compliance activities.
Find out about the International Traffic in Arms Regulations and the US Munitions List. Understand how to be compliant when exporting military and munition items
Access July 8th Webinar
Access July 22nd Webinar
Sanctions and Embargoes: What it means to you?
Utilizing the Features in the AES
Office of Foreign Assets Control
August 5, 2014
U.S. Census Bureau
August 26, 2014
Learn about sanctions and embargoes on foreign countries and entities. Learn best practices to screen denied persons and blocked countries.
Easily manage your export reporting through AESDirect shipment manager. Learn how to utilize the features in AESDirect to view and track shipments, which can assist you with internal audits.
Access August 5th Webinar
Access August 26th Webinar
Virtual

Town Hall
Foreign Trade Regulation (FTR) Webinars


Come learn about what has changed in the Foreign Trade Regulation (FTR) and how that change will affect you. This webinar series was created by the Foreign Trade Division of the U.S. Census Bureau and will provide information on the revised FTR. Best of all, the webinars are FREE.

The webinars will focus on the following topics:
Changes in reporting requirements
(i.e., used self propelled vehicles, temporary exports, and split shipments)
New fields added to the Automated Export System
(e.g., License Value and Ultimate Consignee Type)
Changes in definitions
(i.e., port of export and household goods)
Virtual
Town Halls
Upcoming Town Halls
Select dates below to view
previously recorded webinar











Go Global Webinars

This in-depth webinar series provides the government resources to help you become a successful exporter from finding compatible markets for your products to financing your export program to understanding export regulations. Each of the 11 webinars will provide useful information that can increase your knowledge about international trade and help you "Go Global."
Next Webinar:
Series Complete
Please select from Topics
to view webinars and
get more information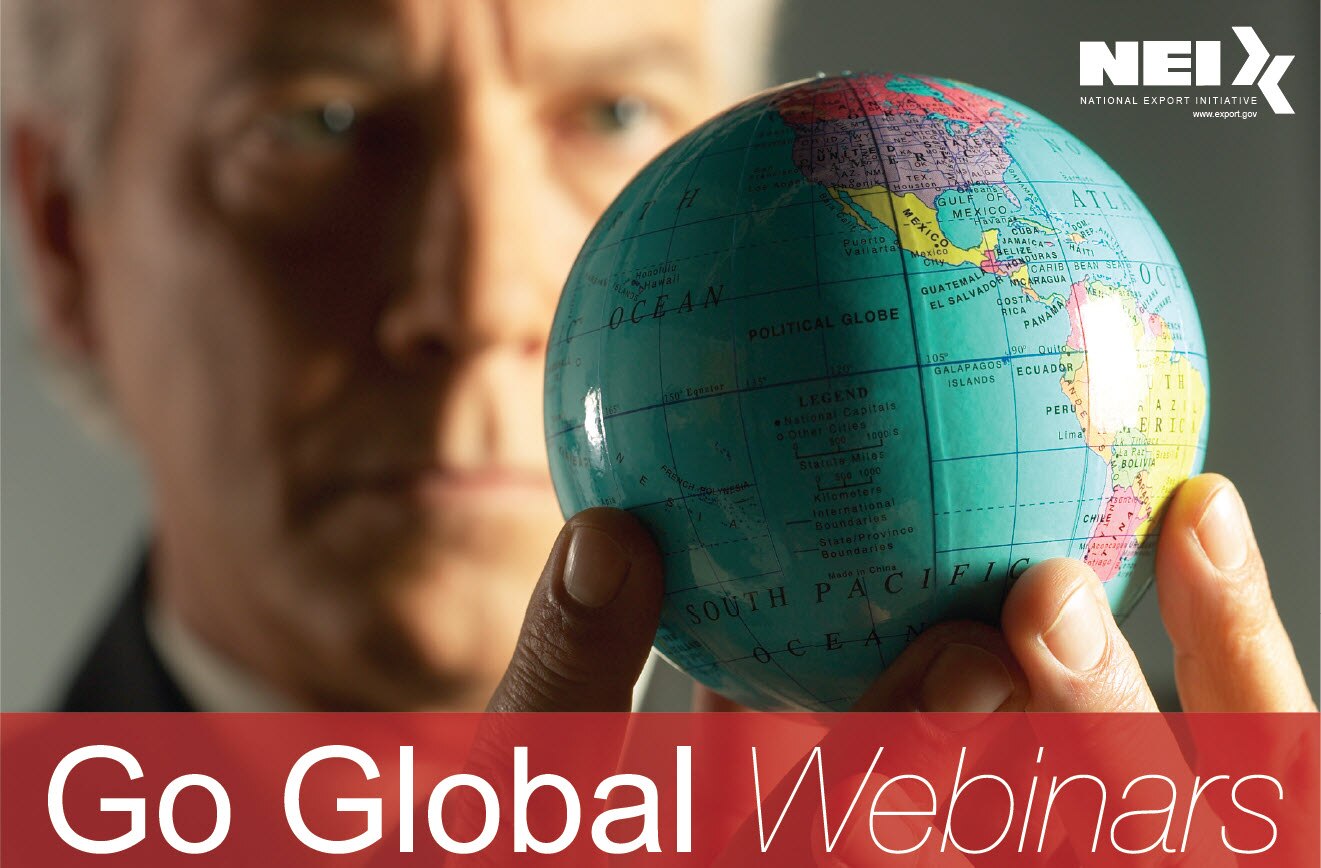 Series Topics
WHERE TO GET STARTED
PREPARING YOUR BUSINESS TO EXPORT
YOUR MARKET AND TRADE RESEARCH
FINDING BUYERS AND MAKING CONTACTS
TRADE FINANCING
DOCUMENTATION AND SHIPPING
AVOIDING AND RESOLVING PROBLEMS
Fundamentals of Exporting
Source: U.S. Census Bureau | Foreign Trade Division | ftdwebmaster@census.gov | Last Revised: August 29, 2014