Dr. Robert Groves Appeared on C-SPAN's "Washington Journal": Women in the Workforce
View archived segment on C-SPAN

Census Bureau Director Robert Groves appeared on C-SPAN's "Washington Journal" on Friday, August 12, discussing women in the workforce.
Director's Blog

Presentation [PDF]

Slide 2: Subject Definitions [PDF]
Census Bureau Reports:
Employment and Labor Force Participation
Earnings
Other Reports and Information
Sources for the information: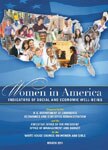 Economics and Statistics Administration Reports:
Note: The Bureau of Labor Statistics releases substantial information on working women:
[PDF] or

denotes a file in Adobe's Portable Document Format. To view the file, you will need the Adobe® Reader®

available

free

from Adobe.
This symbol

indicates a link to a non-government web site. Our linking to these sites does not constitute an endorsement of any products, services or the information found on them. Once you link to another site you are subject to the policies of the new site.