International Trade
OUTREACH, EDUCATION AND TRAINING
The U.S. Census Bureau provides valuable resources and training on understanding the Foreign Trade Regulations, classifying your commodities, filing export information, and utilizing international trade data. Learn more about these topics through our webinars, tutorials, training videos, seminars, conferences and other useful tools to help you build a strong foundation in the fundamentals of exporting.

Ready to grow your business in new ways, but need help? Wondering how to compete in a challenging, but lucrative global marketplace.
We can provide the help and guidance you need. During World Trade Month (May), federal agencies bring you this FREE
four-part webinar series to help you go global. Download the series flyer. br> All webinars are at 2:00 pm (EDT).
No pre-registration is required.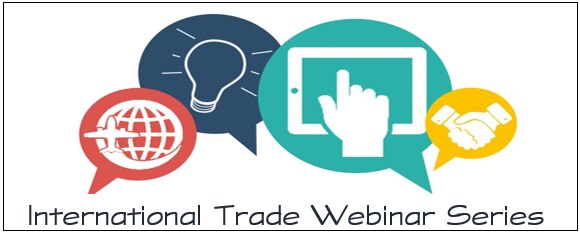 presented by the
U.S. Census Bureau's International Trade Management Division
This webinar series provides training and updates on features within the Automated Commercial Environment(ACE), the Foreign Trade Regulations(FTR) and MORE!
All webinars are FREE and start at 2pm EST. No pre-registration is required.
Filing In The New AESDirect In ACE
Watch the video on how to file in the Refactored AESDirect in the Automated Commercial Environment (ACE).

Watch the video for the Spanish version here.
Automated Commercial Environment/Automated Export System Export Reports Webinar
Date: September 17, 2015

Presenters: U.S. Census Bureau & U.S. Customs and Border Protection

This webinar will provide the trade community with information on how to apply for a new Exporter account and run trade export reports. In addition, updates on the AESDirect portal development and the timeline for moving AESDirect into ACE.

All webinars are FREE and start at 2pm E.S.T.
Log-in details available 24 hours before event
Understanding the Foreign Trade Regulations
Classifying your Product
U.S. Census Bureau
June 10, 2014
U.S. Census Bureau
June 24, 2014
Learn the rules and responsibilities for all parties involved in an export transaction. Before you export physical goods from the US you must be aware of your role and the reporting requirements.
Need help classifying your product for exportation? Learn how to use our intuitive Schedule B Search, and gain an understanding of the classification rules.
Access June 10th Webinar
Access June 24th Webinar
Learn more about the Export Administration Regulations
Complying with the International Traffic in Arms Regulations
Bureau of Industry and Security
July 8, 2014
State Department
July 22, 2014
Gain an understanding of the Export Administration Regulations, Export Control Classification Numbers, and how to file Commerce-controlled exports in the Automated Export System. Learn about the Commerce Control List, Export Control Reform, and the new "600 series," as well as existing compliance activities.
Find out about the International Traffic in Arms Regulations and the US Munitions List. Understand how to be compliant when exporting military and munition items
Access July 8th Webinar
Access July 22nd Webinar
Sanctions and Embargoes: What it means to you?
Utilizing the Features in the AES
Office of Foreign Assets Control
August 5, 2014
U.S. Census Bureau
August 26, 2014
Learn about sanctions and embargoes on foreign countries and entities. Learn best practices to screen denied persons and blocked countries.
Easily manage your export reporting through AESDirect shipment manager. Learn how to utilize the features in AESDirect to view and track shipments, which can assist you with internal audits.
Access August 5th Webinar
Access August 26th Webinar
Source: U.S. Census Bureau | Foreign Trade Division | ftdwebmaster@census.gov | Last Revised: January 08, 2021