The U.S. population will be considerably older and more racially and ethnically diverse by 2060, according to projections released today by the U.S. Census Bureau. These projections of the nation's population by age, sex, race and Hispanic origin, which cover the 2012-2060 period, are the first set of population projections based on the 2010 Census.
"The next half century marks key points in continuing trends — the U.S. will become a plurality nation, where the non-Hispanic white population remains the largest single group, but no group is in the majority," said Acting Director Thomas L. Mesenbourg.
Furthermore, the population is projected to grow much more slowly over the next several decades, compared with the last set of projections released in 2008 and 2009. That is because the projected levels of births and net international migration are lower in the projections released today, reflecting more recent trends in fertility and international migration.
According to the projections, the population age 65 and older is expected to more than double between 2012 and 2060, from 43.1 million to 92.0 million. The older population would represent just over one in five U.S. residents by the end of the period, up from one in seven today. The increase in the number of the "oldest old" would be even more dramatic — those 85 and older are projected to more than triple from 5.9 million to 18.2 million, reaching 4.3 percent of the total population.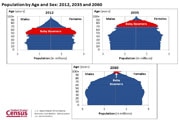 Baby boomers, defined as persons born between 1946 and 1964, number 76.4 million in 2012 and account for about one-quarter of the population. In 2060, when the youngest of them would be 96 years old, they are projected to number around 2.4 million and represent 0.6 percent of the total population.
A More Diverse Nation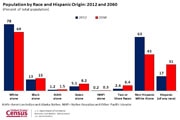 The non-Hispanic white population is projected to peak in 2024, at 199.6 million, up from 197.8 million in 2012. Unlike other race or ethnic groups, however, its population is projected to slowly decrease, falling by nearly 20.6 million from 2024 to 2060.
Meanwhile, the Hispanic population would more than double, from 53.3 million in 2012 to 128.8 million in 2060. Consequently, by the end of the period, nearly one in three U.S. residents would be Hispanic, up from about one in six today.
The black population is expected to increase from 41.2 million to 61.8 million over the same period. Its share of the total population would rise slightly, from 13.1 percent in 2012 to 14.7 percent in 2060.
The Asian population is projected to more than double, from 15.9 million in 2012 to 34.4 million in 2060, with its share of nation's total population climbing from 5.1 percent to 8.2 percent in the same period.
Among the remaining race groups, American Indians and Alaska Natives would increase by more than half from now to 2060, from 3.9 million to 6.3 million, with their share of the total population edging up from 1.2 percent to 1.5 percent. The Native Hawaiian and Other Pacific Islander population is expected to nearly double, from 706,000 to 1.4 million. The number of people who identify themselves as being of two or more races is projected to more than triple, from 7.5 million to 26.7 million over the same period.
The U.S. is projected to become a majority-minority nation for the first time in 2043. While the non-Hispanic white population will remain the largest single group, no group will make up a majority.
All in all, minorities, now 37 percent of the U.S. population, are projected to comprise 57 percent of the population in 2060. (Minorities consist of all but the single-race, non-Hispanic white population.) The total minority population would more than double, from 116.2 million to 241.3 million over the period.
Projections show the older population would continue to be predominately non-Hispanic white, while younger ages are increasingly minority. Of those age 65 and older in 2060, 56.0 percent are expected to be non-Hispanic white, 21.2 percent Hispanic and 12.5 percent non-Hispanic black. In contrast, while 52.7 percent of those younger than 18 were non-Hispanic white in 2012, that number would drop to 32.9 percent by 2060. Hispanics are projected to make up 38.0 percent of this group in 2060, up from 23.9 percent in 2012.
Other highlights:

The nation's total population would cross the 400 million mark in 2051, reaching 420.3 million in 2060.
The proportion of the population younger than 18 is expected to change little over the 2012-2060 period, decreasing from 23.5 percent to 21.2 percent.
In 2056, for the first time, the older population, age 65 and over, is projected to outnumber the young, age under 18.
The working-age population (18 to 64) is expected to increase by 42 million between 2012 and 2060, from 197 million to 239 million, while its share of the total population declines from 62.7 percent to 56.9 percent.
The ratio of males to females is expected to remain stable at around 104.7 males per 100 females for the population under the age of 18. For the population age 18 to 64, the ratio of males per 100 females is projected to be 98.9 in 2012 and increase to 104.1 in 2060. The ratio for the population age 65 and over is also projected to increase, from 77.3 males per 100 females in 2012 to 84.4 in 2060.
Supplemental population projections, based on constant, low and high projections of net international migration, are planned for release in 2013.
Blog:
-X-
Unless otherwise specified, the statistics refer to the population who reported a race alone. Censuses and surveys permit respondents to select more than one race; consequently people may be one race or a combination of races. The detailed tables show statistics for the resident population by "race alone" and "race alone or in combination."
The federal government treats Hispanic origin and race as separate and distinct concepts. In surveys and censuses, separate questions are asked on Hispanic origin and race. The question on Hispanic origin asks respondents if they are of Hispanic, Latino or Spanish origin. Starting with the 2000 Census, the question on race asked respondents to report the race or races they consider themselves to be. Hispanics may be of any race. Responses of "Some Other Race" from the 2010 Census were modified for these projections. This results in differences between the population for specific race categories in these projections versus those in the original 2010 Census data.