Herman Hollerith

Herman Hollerith.
Herman Hollerith (1860-1929): Hollerith worked briefly for the Census Office in the run-up to the 1880 census. This experience, along with some advice from mentor John Shaw Billings, convinced him that the Census Office desperately needed a better way to tabulate census data than hand counting. Hollerith was able to invent a device that did just that: an electric tabulating machine.
Herman Hollerith was born to German immigrants in Buffalo, NY in 1860. His early education was rocky, but he was eventually able to enroll at the City College of New York in 1875. He graduated from the Columbia University School of Mines in 1879, impressing one of his professors, W.P. Trowbridge, so much that the man asked Hollerith to become his assistant.
Hollerith followed Trowbridge to the 1880 census, where he worked as a statistician. It was from his experiences during the processing of that census that Hollerith realized the need for a better way to count results. Billings suggested a device similar to the Jacquard loom, an automatic weaving machine that is controlled by specially coded punch cards, might be used to automate the count.
Hollerith seized on the idea of punch cards, designing a machine that used the location of holes on each card to tally not only overall numbers but also individual characteristics and even cross-tabulations. He tested his new machine in Baltimore in 1887, the same year the hand-counted 1880 census was finally completed, and was successful enough that he won a contract from the Census Office when it reopened for the 1890 census.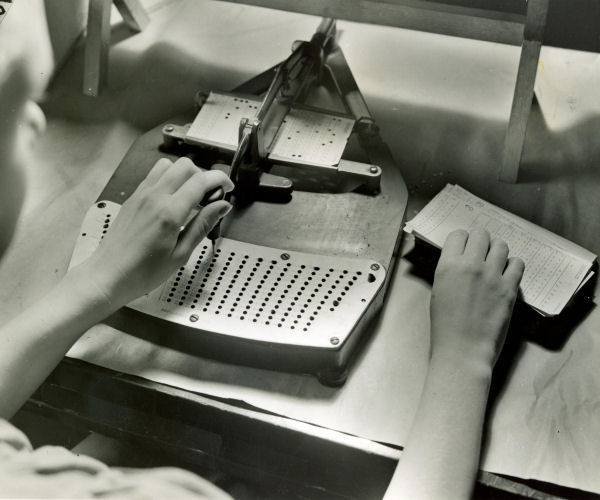 View larger image
Preparing punch cards, ca. 1930
Hollerith's electric counting machines were a great success. They appreciably reduced tabulation time for the 1890 census while providing more statistics at a lower cost for processing. His success in 1890 led to contracts with foreign governments, eager to use his devices. Hollerith machines were used in 1891 for censuses of Canada, Norway, and Austria; railroad companies used them to calculate fare information.
In 1896, Hollerith formed the Tabulating Machine Company, opening a shop in the Georgetown neighborhood of Washington, DC. He provided machines for the 1900 census count, but had greatly raised his leasing prices. Hollerith, secure in his monopoly over the technology, knew that the Census Office would have to pay whatever he demanded. It did, but when the office became the permanent Census Bureau in 1902, it began to explore other options.
Barely skirting patent restrictions, Census Bureau employees were able to create their own tabulating machine, more advanced than Hollerith's, in time for the 1910 census. Census Bureau technician James Powers was able to secure the patent for this machine, and he started his own machine tabulation company in 1911. Hollerith's company, which had changed its name to the Computer Tabulating Recording Company after a merger, was practically run out of the market.

View larger image
Tabulating data with a Hollerith
Machine
In 1918, Thomas J. Watson, an accomplished salesman, joined the Computer Tabulating Recording Company as an executive. Although he and Hollerith did not get along, he revolutionized the way the company was run and transformed it into a successful enterprise once again.
Although Hollerith worked with the company he founded as a consulting engineer until his retirement in 1921, he became less and less involved in day-to-day operations after Watson came on board. Hollerith retired to his farm in rural Maryland, where he spent the rest of his life raising Guernsey cattle. He died of a heart attack in 1929.
As for the Computer Tabulating Recording Company, in 1924, the resurgent enterprise changed its name to the International Business Machines Corporation, or IBM.