Library
State-to-State Migration for States of 8 Million or More
December 20, 2012
| | |
| --- | --- |
| | California |
| | Texas |
| | New York |
| | Florida |
| | Illinois |
| | Pennsylvania |
| | Ohio |
| | Michigan |
| | Georgia |
| | North Carolina |
| | New Jersey |
| | Virginia |
This graphic, using data from the American Community Survey, illustrates the total number of movers between states for the 12 most populous states, based on 2010 population. While there is considerable gross domestic migration (total number of movers) between states each year, the number of movers in and the number of movers out are similar, resulting in relatively small net gains or losses.
SOURCE: 2011 American Community Survey 1-Year Estimates
Data are for domestic (internal) migration only and excludes the population under 1 year of age. Total flows of 20,000 people or more are labeled. Migration figures do not include moves to or from Puerto Rico or the U.S. Island Areas. As is the case with all surveys, statistics from sample surveys are subject to sampling and nonsampling error. The data table includes specific margins of error. For more information on state-to-state migration flows see www.census.gov/data/tables/time-series/demo/geographic-mobility/state-to-state-migration.html.
Gaining and Losing Shares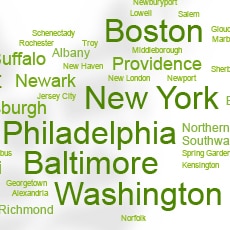 Top 20 Cities
er -->