Library
Components of Metro Area Change, 2010-2011
December 6, 2012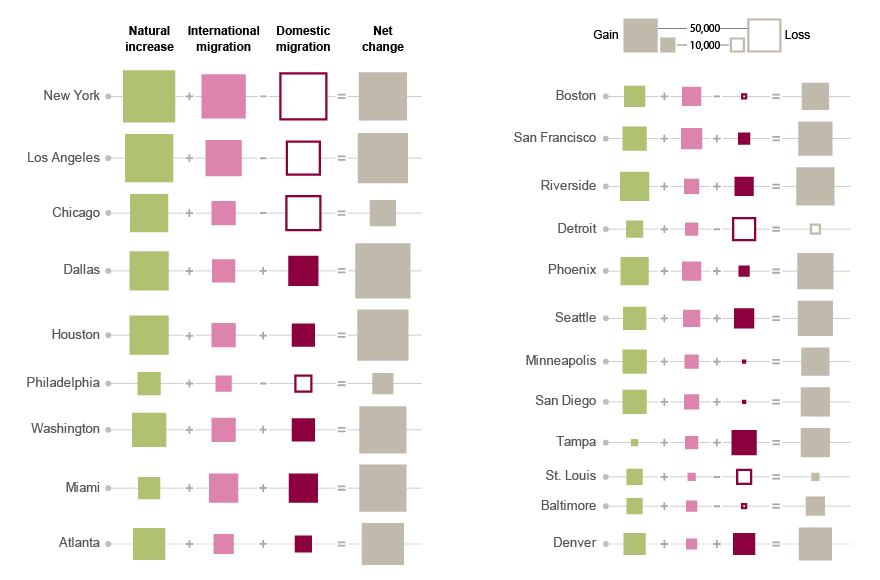 Population change can be attributed to several different processes: natural increase (births minus deaths), net domestic migration, and international migration. Many of the largest metro areas lost population through domestic migration. With the exception of the Detroit metro area, those losses were balanced by gains from natural increase and net international migration.
SOURCE: Population Division, Vintage 2011 Population Estimates
NOTE: Population change is for the period July 1, 2010 to July 1, 2011. Metro areas of 2.5 million people or more in 2011 are included and metro order is based on 2011 population. Shortened titles of areas are shown in the graphic and full titles can be seen in the data table. Metro areas are based on the December 2009 Office of Management and Budget definition. For more information on metro areas, see www.census.gov/population/metro/.

Residual shown in data table is population change that cannot be attributed to any specific demographic component of population change. This component results from one or both of two parts of the estimates process: (1) The application of population controls to estimates for lower levels of geography; and (2) The incorporation of accepted challenges and special censuses into the population estimates.